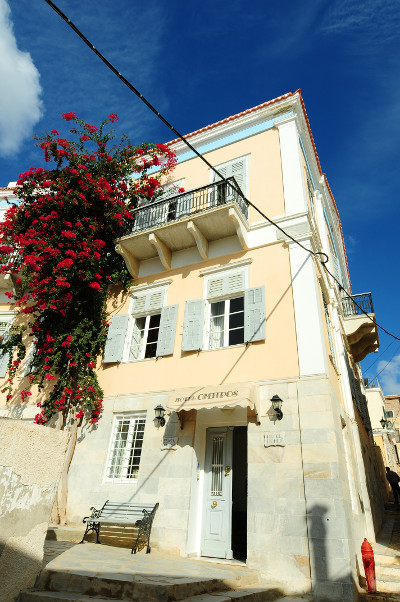 The Hotel OMIROS is a 170-year-old neoclassical mansion, formerly the home of the famous Greek sculptor Georgios Vitalis. Opened to the public in 1989 the mansion has been fully restored and operates as a hotel since then. We run this magnificent mansion already in the second generation.
Situated in a central, but at the same time tranquil and traffic-free spot, you can reach in only some minutes' walk the harbor and the central town hall of Ermoupolis.
In addition to its special charm and patina, the long history of the house brings a great deal of vitality and warmth.
Our hotel is more than just a place for an overnight-stay: It is a meeting place of cultures, art and love for beauty. This combination will make your holiday unforgettable!
You can experience and explore a lot on Syros: nice sandy beaches, hiking, cultural events, excellent taverns, elegant shops and boutiques, friendly people and Greek everyday life. The summer festival of Syros, the Ermoupoleia, offers daily cultural events, concerts and exhibitions throughout the summer months.
Syros is in every season of the year a fascinating place to be. Those for whom it is too hot in summer, you will experience on this Cycladic Island green landscapes in spring and mild weather. In autumn and winter you will be able to explore every-day life in this beautiful Greek province town –Ermoupolis is also the capital of the Cycladic Islands, so that it is always a lively town.