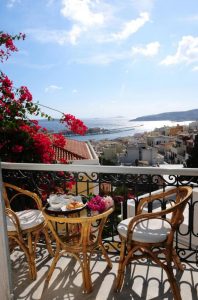 Hotel OMIROS is situated on 3 floors with a huge roof-top sun terrace commanding splendid views of Hermoupolis and the sea.
The ground floor of exclusively public rooms for guest use comprises the reception desk and lobby area, a separate breakfast room, and a sitting room with an internal view and open fireplace.
The first floor with its excellently preserved 19th century hand-painted hall ceilings comprises 5 spacious double rooms and one suite.
The second floor has 6 double rooms and one suite, and of course a very nice view over Hermoupolis and its harbour.
All bedrooms have private en suite bathrooms with showers and are equipped with modern, high quality beds.
The rooms are furnished individually with period antiques selected very carefully piece by piece by the hotel's owners, so that each room has its own charm and personality faithful to the original construction and design of this unique 19th century mansion.
All rooms are air-conditioned, have central heating and are equipped with television, refrigerator, and hair-dryer, telephone and free WI-FI Internet.
The fourth floor roof-top houses the huge terrace with its breath-taking panoramic view. From here guests can look down not only on the whole of Hermoupolis and the harbour, but also to Ano Syros, the ancient medieval town on the hill above Hermoupolis and to the panoply of the Cyclades, from the island of Tinos to Mykonos, Delos, Paros and Naxos.
Steps and exclusively pedestrian areas surround the building, so that guests are not disturbed by the noise of motorbikes and cars.